WE LOVE BUYERS!

We are celebrating home ownership with our "WE LOVE BUYERS!"
incentive program! An exclusive offering by "The Woodlands Eco Realty".
That's right! – SAVE MONEY by getting UP TO $2,000 IN CLOSING COSTS PAID by working with us!
If you are considering buying a home in The Woodlands® or in the Greater Houston area, then you need to contact seasoned realtors ready to go to work for you.
Buyer's Pledge
All buyers working with Woodlands Eco Realty Property Pros have access to this unique package of services:
Interior design consulting services
Comprehensive home service offerings, and the
Comfort of knowing you are working with a group of experts equipped to effectively navigate today's real estate transaction and negotiate on your behalf.
Too often, buyers lack the opportunity for incentives in the existing home sales market. So we thought, WHY NOT? For an exclusive period of time, if you register online and shop for a home with us, get an accepted contract and close,
we will offer you a home buyer incentive package up to $2000 in closing costs PAID BY US – as a THANK YOU!

How do You Register For the Program?
Online registration is required by all buyers desiring to qualify for the Home Buyer Rebate Incentive Program. Each buyer registration must be submitted and confirmed online BEFORE your offer is accepted. To register for the Buyer Rebate Incentive program, please click on the button below.
You will be contacted within 24 hours by one of our customer service concierges for further instructions, confirmation of your registration, and assistance.
Who is eligible?
Any buyer who is represented by The Woodlands Eco Realty Pro Sales Associate or Broker and who registers online prior to offer acceptance. Online registration is required and official confirmation will be sent upon successful completion of the online registration process. The program does not apply to buyers working with any other real estate brokerage firm, entity or person (including themselves) other than The Woodlands Eco Realty. All investor and owner occupant buyers shall be deemed eligible. Each online registration may be utilized for multiple purchases if a buyer acquires more than one property through the use of our Property Pro Sales Associate.
How much of an incentive can I receive?
The following grid details the incentive amounts that apply to each confirmed and registered buyer. All disputes regarding the Home Buyer Rebate Incentive Program are to be resolved at the determination of the Principal Broker of The Woodlands Eco Realty and all decisions are final.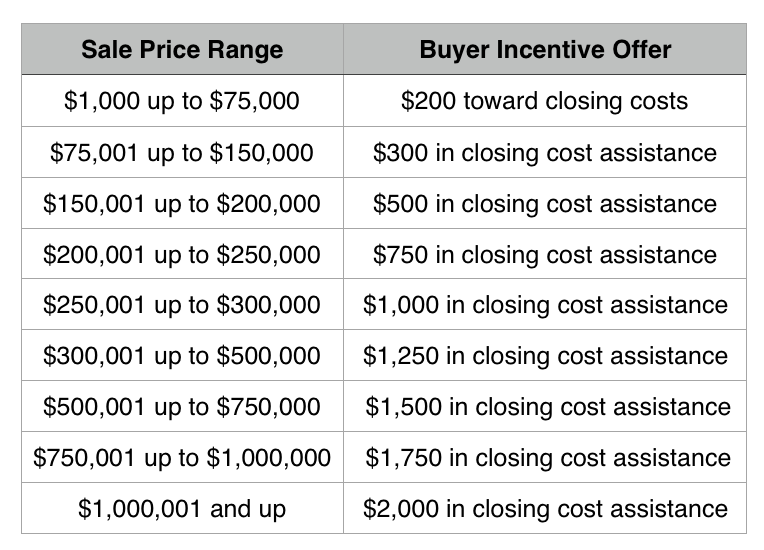 Note 1:
The We Love Buyers – Buyer Rebate Incentive Program is available to all buyers purchasing their property through a Woodlands Eco Realty Pro Sale Associate or Broker (as their buyer's agent), regardless of which real estate company has the property listed.
Note 2:
The Home Buyer Rebate Incentive Program DOES NOT apply:
To buyers purchasing properties listed by The Woodlands Eco Realty and/or any of its associates when the buyer is working with another real estate brokerage firm of any kind.
If the seller agrees to pay his/her closing costs as part of the negotiation process.
To any prior closings by non-confirmed online registration buyers or any non-confirmed buyer of any kind at any time during the program period.
To sellers. No seller shall receive any portion of the incentive program as it has been created for buyers only.

In cases where sellers (through negotiations) agree to pay closing costs and no closing costs will be incurred by any buyer using a Property Pros Sales Associate or Broker, this program offer is deemed null and void.

Note 3:
Any difference between what the rebate program offers and the closing costs negotiated paid by the seller will be applied from the Rebate Incentive Program, not including pre-paid interest, home owners insurance, or non-lender closing cost fees.
Note 4:
The Woodlands Eco Realty reserves the right to enforce eligibility requirements, and review eligibility compliance. All decisions made by the Woodlands Eco Realty management will be deemed final.
WE LOVE BUYERS!
We love buyers and we look forward to working with you!
If you have any questions regarding the Home Buyer Rebate Incentive Program, please contact us.