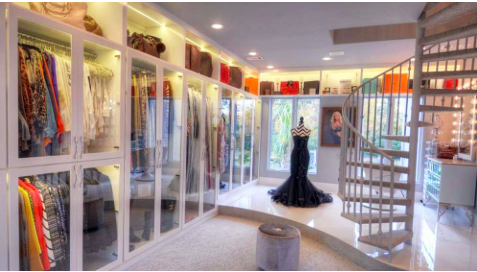 Photo Courtesy of: Realtor.com
If you had all the money in the world to build a perfect home, how big of a closet would you build? Most people are happy with a 100 sq. ft. closet if they can get one. That is typically the size of a room. But one unique house in The Woodlands has been made famous because of its one-of-a-kind, three-story closet.
Featured on "Good Morning America" and Realtor.com, this closet can hold more than you could ever imagine. Used for different fundraising events and parties, this closet is not only home to expensive clothes, shoes, jewelry and purses, but it has accommodated a number of rather large gatherings.

Features
The world's most famous closet, which happens to be 3,000-sq. ft., lies inside of a 17,315 sq. ft. mansion that is currently on the market. Features of the closet alone include:
Champagne bar
Retail display lighting
Floating staircase
Vanity station, and
State-of-the-art sound system
Bidding Starts July 30!
The home has nine bedrooms, 10 bathrooms, and three half-baths. Seeing that the mansion is so large, it is no surprise that the home also has a theater, entertainment lounge and catering kitchen.
The home will go to auction on July 30 with a "$5 million reserve, or minimum bid with a $250,000 refundable deposit necessary to register for the live auction," according to The Woodlands Journal.
Who will be the new owner of this beautiful masterpiece of a home? Although that won't be revealed until the end of the month, we at The Woodlands Eco Realty are sure that bidders are already thinking of creative ways to utilize the world's famous closet.
Sources: