Fallingwater is a house designed by architect Frank Lloyd Wright in 1935, 43 miles southeast of Pittsburgh, PA. The home was built partly over a waterfall, as a weekend home for the Kaufmann family.
The house is listed in Smithsonian's Life List (28 places to visit before you die). In 1991, the American Institute of Architects named the house the "best all-time work of American architecture". In 2007, it was ranked 29th on the List of America's Favorite Architecture (AIA). It was designated a National Historic Landmark in 1966.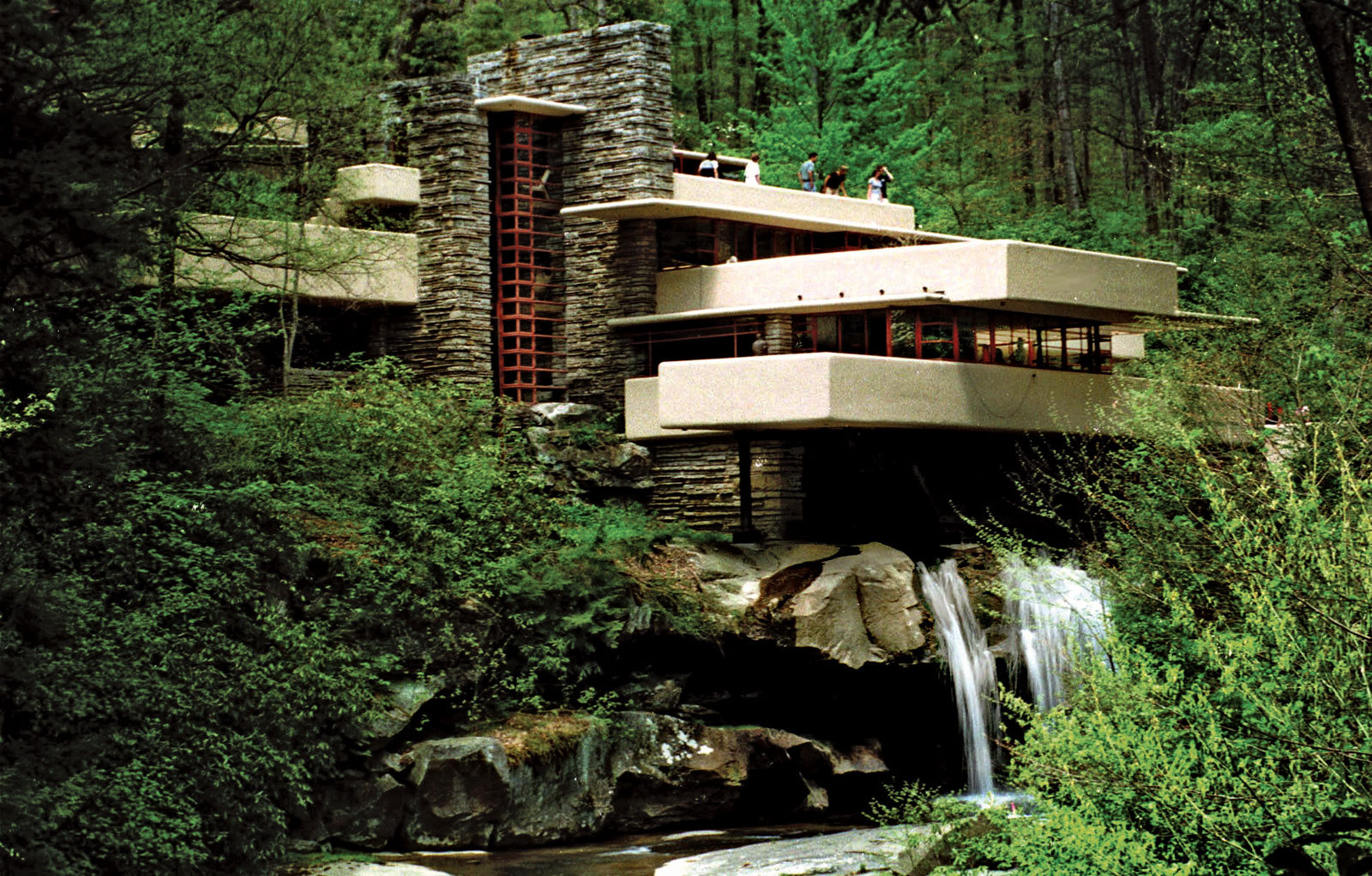 Passion for Japanese Architecture:
Wright's passion for Japanese architecture was strongly reflected in the design of Fallingwater, particularly in the importance of interpenetrating exterior and interior spaces and the strong emphasis placed on harmony between man and nature. Contemporary Japanese architect Tadao Ando has stated: "I think Wright learned the most important aspect of architecture, the treatment of space, from Japanese architecture.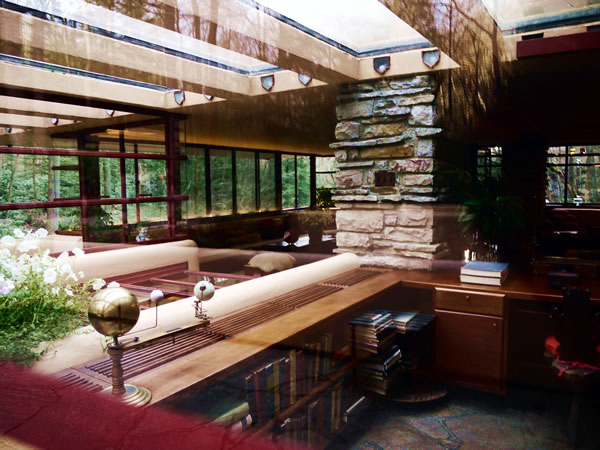 Unique Design:
From the cantilevered living room, a stairway leads directly down to the stream below, and in a connecting space which connects the main house with the guest and servant level, a natural spring drips water inside, which is then channeled back out.
The design incorporates broad expanses of windows and balconies which reach out into their surroundings. The staircase leading down from the living room to the stream is accessed by movable horizontal glass panes. In conformance with Wright's views, the main entry door is away from the falls.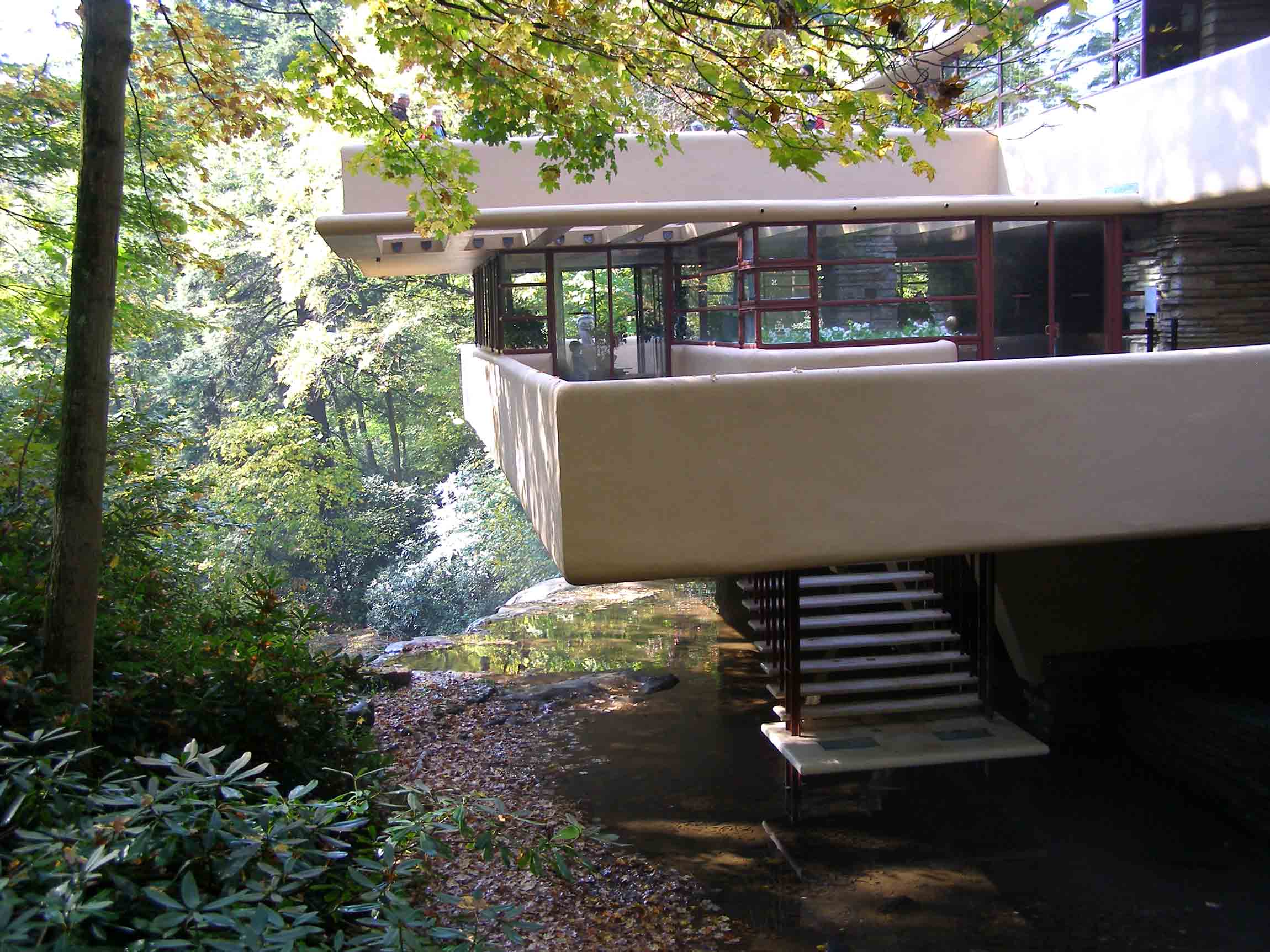 Cost:
The original estimated cost for building Fallingwater was US$35,000. The final cost for the home and guest house was $155,000, broken down as: house $75,000, finishing and furnishing $22,000, guest house, garage and servants' quarters $50,000, and architect's fee $8,000. From 1938 through 1941, more than $22,000 would be spent on additional details and for changes in the hardware and lighting.
The total project price of $155,000, adjusted for inflation, is the equivalent of about $2.6 million. The cost of restoration was estimated to be $11.5 million in 2001.
It's hard to think of a house more unique than Fallingwater. We recommend you paying a visit whenever you have a chance to visit Pennsylvania.